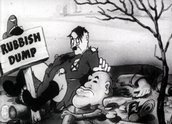 Australians Keep the Wheels of Industry Turning (c.1943)
Synopsis
An animated Commonwealth advertisement made by the Owen Brothers and designed to persuade the Australian public to contribute to the war effort by investing in National Savings stamps and the 4th Liberty Loan.
Curator's notes
Will and Harrie Owen had worked as graphic artists and amateur filmmakers since the early 1930s, when Will was a projectionist and manager of a local theatre in Belgrave, Victoria. In order to make a living, the brothers formed the Owen Brothers company (and later Owen Brothers Animated Films) and took on commercial work as animators for both the private and government sectors.
During the Second World War, the brothers turned out an average of one animated advertisement per month for the Commonwealth Department of Information. This was an impressively quick turnaround given that they came up with the storyline, script and animations themselves, working only from a general theme given to them by the department. The war loans advertisements screened widely in cinemas to persuade audiences to contribute money to the war effort (see also Road to Tokyo, c1941).
Animation was first employed in Australia by cartoonist Harry Julius, who made propaganda cartoons during the First World War. He had a regular segment, Cartoons of the Moment, in the Australasian Gazette newsreel (see for example Cartoons of the Moment – The War Zoo, c1915).