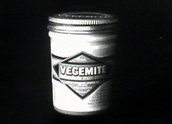 Vegemite Cinema Advertisement: Sister Knows Best (c.1948)
Synopsis
A black-and-white cinema advertisement for Kraft Vegemite outlines the benefits it has if added to one's diet, especially for children and infants.
Curator's notes
This advertisement begins inside a baby health centre where young mothers and their children await expert advice from the nursing sisters. Vegemite is recommended as a solution to one child's dislike of milk and is promoted as being good for children from five months or even younger. This section of the advertisement is designed to appeal directly to mothers and their children, but Kraft also cleverly notes that the men in the household also enjoy Vegemite (the husband chomping on Vegemite on toast in the kitchen is evidence of this!). Thus Vegemite is positioned as a product that the whole family can enjoy.
Typically of the time, food products such as Vegemite, Kraft Cheddar Cheese and Kellogg's Cornflakes were also marketed as having economical benefit (both in time and cost).
The famous jingle We're Happy Little Vegemites was recorded in 1954, six years after this advertisement was produced. It can be sampled as an audio file on the National Film and Sound Archive website.