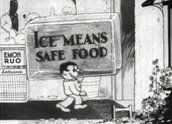 Toora Vale Ice Company, Berri: The Ice Man Was Never Like This (c.1934)
Synopsis
This animated cinema advertisement for Toora Vale Ice Company promotes the benefits of ice refrigeration.
Curator's notes
The title of this advertisement, The Ice Man Was Never Like This, pre-empts the theme – that electrical refrigeration is less reliable than ice refrigeration. To reinforce the message, a repair man in the ad attempts to fix a broken electric fridge. Simple animation builds the case for using ice by adding slogans to the large blocks of ice which are delivered to the home. In the pre-CGI era, superimposing slogans onto the ice was not possible in a live-action advertisement.
In the 1930s, the Toora Vale Ice Company was based in Monash, outside of Berri in South Australia. In the 1940s, the company stopped selling ice and began farming potatoes, harvested by members of the Australian Women's Land Army. No longer operating under the Toora Vale name, but still based in Monash, the company now produces glacé fruit.