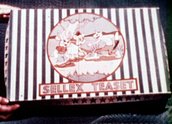 Sellex Crockery: Red Riding Hood (c.1930)
Synopsis
In this partly animated advertisement for a Sellex tea set, some of the characters that decorate the crockery appear in the story Red Riding Hood.
Curator's notes
This charming and clever advertisement appeals to the 'pester power' of children by using animation and a local version of a well-known fairytale to promote Sellex products. Little Red Riding Hood is given an Australian twist with characters Pam Possum and Granny Platypus taking on the familiar roles of Red Riding Hood and the Grandmother. Other animals include a kangaroo, a koala and a kookaburra.
The first three-and-a-half minutes tell the Red Riding Hood story in which Pam Possum takes a shortcut through the forest to see her grandmother, in spite of the animals who warn her of dangerous Willy Wildcat. At the end of the cartoon, a male voice-over comments on Willy Wildcat's fate and then delivers the persuasive selling pitch: 'remember, all the characters in this Sellex production appear on the cups and jars in this Sellex tea set'. The tea set and other Sellex kitchen products are shown in a live action setting. The narrator also highlights the product's vibrant colour, durability, and suitability for the modern home – a pitch to housewives and mothers. In this way, the advertisement cleverly targets two generations of users.
This advertisement was made by Eric Porter Productions, an animation studio and production company run by director and animator Eric Porter. Eric Porter Productions also produced the iconic animated advertisements for Aeroplane Jelly in the 1940s and 1950s.