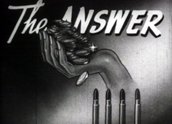 Road to Tokyo (c.1941)
Synopsis
An animated Commonwealth Government advertisement illustrated by the Owen Brothers and designed to persuade the Australian public to contribute to the war effort by investing in war loans.
Curator's notes
Owen Brothers Animated Films was formed by two brothers, Will and Harrie. They had worked as graphic artists and amateur filmmakers since the early 1930s, when Will was a projectionist and manager of a local theatre in Belgrave, Victoria. Because there was little funding or support for filmmakers in the decades before film schools and funding agencies, the Owen Brothers turned to commercial projects to support their personal endeavours and worked for a diverse range of corporate entities and government departments, including the Department of Information (DOI).
During the Second World War, the Owens were contracted to provide animated advertisements in support of the domestic war effort, in particular the purchase of war loans and war bonds. The brothers had experimented with film animation prior to the outbreak of war and produced two short animated films, The Old Tree (c1938) and The Court of Old King Cole (c1939). While working for the DOI, the brothers turned out an average of one animated advertisement a month, a quick turnaround given that they came up with the storyline, script and animations themselves, working only from a general theme given to them by the department.
The war loans advertisements screened widely in cinemas. The Owen Brothers's animations, including Australians Keep the Wheels of Industry Turning (c1943), were persuasive pieces of propaganda designed to sway even the most resistant audiences. In Road to Tokyo, which was made just after Japan entered the war in December 1941, a combination of slogans, an instrumental fanfare score, patriotic symbols and clever animation which morphs piles of money into bullets and weaponry, persuades viewers that by investing in the Victory Loan, they will be contributing to an Allied victory.