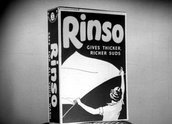 Rinso Washing Powder: Easy Does It (1946)
Synopsis
The advertisement for Rinso washing powder uses a musical sales pitch to sing the praises of this fantastic product.
Curator's notes
Easy Does It like many other Rinso advertisements from this era, creates a narrative or story sequence that stands as a self-contained sequence, also seen in Then came happiness (1931) for Rinso soap powder, Rinso Washing Powder : Fairy Story Comes True (1935) and Rinso Laundry Powder: Hilda and Hugh Jones (1940).
The advertisement features Joy Nichols, Dan Agar and Bill Kerr who were all actors and radio stars of the era. Nichols was part of the successful BBC radio serial Take It From Here for five years and appeared in Ken G Hall's 1946 feature film Smithy. Agar appeared in two Ken G Hall films, Strike Me Lucky (1934) and Let George Do It (1938). Bill Kerr started his career as a child actor and appeared in Frank Thring's Harmony Row as a boy. He went on to become a radio comedian as well as star in a number of other films.