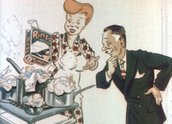 Rinso Washing Powder: A Bachelor Grey (c.1943)
This video was illustrated by the iconic artist, Theodor Geisel, aka Dr. Suess. The story line is classic Dr. Suess as well, his influence is evident throughout the Rinso commercial. He should be given credit for his work.
Fritzie Urquhart

www.fritzie.com

#1 from fritzieu – 9 years, 5 months ago.
To comment on this title, you need to be
logged in
.

RSS – Subscribe to an RSS feed of comments on this title. (learn about RSS)