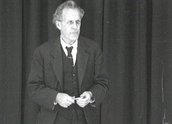 Revolution by Referendum: Political advertisement by Mr Costello (c.1932)
Synopsis
Made by Kinetone Productions, this unedited footage shows an unidentified man attempting to deliver a speech for what may be a public advertisement, to petition the Government in favour of abolishing the 'Capitalistic system'.
Curator's notes
The opening lines to this speech (not curated here) declare the socialist framework of 'Mr Costello's' philosophy: 'the whole wealth of the nation should be produced by the whole of the workers of the nation. And the whole of the workers of the nation should participate in the whole of the wealth of the nation which they themselves have produced'. The remainder of this partially fragmented speech reveals stumbles, re-wordings, and semi-rehearsed sections which may have later been edited together into a finished advertisement for his cause.
Identification of material such as this often relies on clues which come with the original acquisition (such as accompanying notes or can labels). Sometimes visual identification of people or places recorded in early actuality footage is aided by the filmmakers themselves, or where resources are available, film historians or researchers. Here, we see an example of identification through accompanying information. While the person in the footage remains officially unidentified, the name 'Mr Costello', comes from the old can label in which the reel was originally housed. Although this form of identification is not always reliable (film cans can be easily mixed up for example, depending on their history), until further research or knowledge confirms this person's identity, 'Mr Costello' remains a mysterious figure.
Al Burne was the owner of Kinetone Productions, a Brisbane based production company, and his son George began working with his father at the age of fourteen. Kinetone made a number of newsreels covering local events in southeast Queensland, including the arrivals of Charles Kingsford Smith and Amy Johnson from England in 1930.