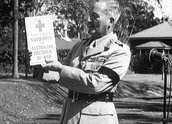 Red Cross Cinema Advertisement: The Prisoner of War Street Adoption Scheme (c.1941)
Synopsis
A community announcement promoting the Red Cross's Prisoner of War Street Adoption Scheme. The advertisement consists of a three-minute address to camera by the Governor of Queensland, Sir Leslie Wilson.
Curator's notes
This appeal for public charity is effective and moving because Governor Leslie Wilson makes such a heartfelt, and seemingly spontaneous, appeal to the audience. In a semi-rehearsed and partly spontaneous speech, delivered in two camera takes, the Governor explains in simple and emotive language the effect of the scheme in alleviating the suffering of Australian prisoners of war held overseas. The appeal offers something practical that people can do – pay one pound a week to sponsor a prisoner of war.
It is possible that this advertisement was sponsored by the Queensland Government for the Australian Red Cross or even made by the Red Cross itself. Either way, Queensland audiences at the time would have been well aware of both the work of the Red Cross for overseas troops and the plight of prisoners of war. They would have watched footage of the Second World War in cinema newsreels of the time, so audiences would have identified strongly with the plight of the POWs.