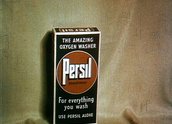 Persil Washing Powder: Their Day (1946)
Synopsis
This black-and-white cinema advertisement for Persil Washing Powder uses the style of a romantic musical to literally sing the praises of the powder's effectiveness.
Curator's notes
Advertisements for domestic products such as this one were often sold on their transformative ability to make a housewife's life easier. This Unilever brand of washing powder's particular magic is its 'oxygen dazzle' which, unlike bar soap, allows the washing powder to lather easily without the need for rubbing and scrubbing. Similar advertisements praising the use of Rinso soap and laundry powder products can be seen in Then came happiness and Rinso Laundry Powder: Hugh and Hilda Jones. Rinso was also manufactured by Unilever, and while Rinso has since disappeared, a range of Persil laundry products can still be found on the shelves of shopping aisles around the country.
The husband and wife in this advertisement are played by theatre performers Muriel Howard and Albert Chappelle, both of whom had appeared in JC Williamson theatre productions. JC Williamson (who is credited with the arrangement for this ad) had a production company which staged musical theatre and operettas throughout the country. The clothing for this advertisement was provided by Snows – a department store founded by retailer Sir Sydney Snow.