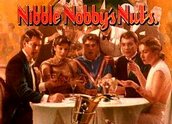 Nobby's Nuts (1988)
Synopsis
Characters in posters on a pub wall come to life and interact. Coming together in one poster, they decide to make a party of it and 'nibble Nobby's Nuts'.
Curator's notes
Directed by David Deneen, a master of animated and live-action commercials, this ad combines both genres with great flair. The animated section was originally filmed in live action, and then the frames rendered and painted by hand.
Deneen, originally an animator, opened his studio Film Graphics over 40 years ago. The studio shared the Best Animated Short Film Oscar for Bruce Petty's Leisure in 1977. With an unerring eye for quality in design, animation and production, Deneen has employed some of Australia's most creative talent and led his team (now Filmgraphics Productions) to win every possible award in the commercial genre. Deneen continues to be an internationally acclaimed director of live-action commercials.
Nobby's Nuts first appeared on Australian television and in cinemas in 1988.