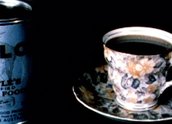 Nestle's MILO Cinema Advertisement: The Joy of Living (1948)
Synopsis
This cinema advertisement for MILO shows how to get a good night's rest and plenty of energy for the morning – just drink a cup of MILO before bedtime!
Curator's notes
MILO is one of Nestlé's most familiar brands and has been a around since 1934. Over that time the product has been advertised in a number of ways, changing in style and tone to adapt to its audience. Here in The Joy of Living MILO is branded as 'the tonic of the times' and the man and woman featured in the ad are young single adults.
The print of this cinema advertisement held at the National Film and Sound Archive is part of the Roger McKenzie collection. McKenzie, along with his friend Bernie Kent, built a private collection of films that included cinema advertisements, a large number of newsreel segments, early documentary and actuality footage. McKenzie and Kent worked as technicians in the industry and also made their own home movies.