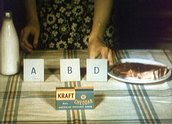 Kraft Cheddar Cheese Cinema Advertisement: Your Daily Diet (c.1947)
Synopsis
A colour cinema advertisement for Kraft Cheddar cheese that focuses on nutrition, food groups and dietary habits.
Curator's notes
This advertisement begins with two fit, healthy people diving into a swimming pool. The rest of the advertisement, which takes on a more educational tone, focuses on the importance of a balanced diet to achieve top physical condition. It examines the value of three food groups: protective foods, energy foods and body builders. Not surprisingly, Kraft cheese appears in all three groups.
For other examples of cinema advertisements for food products in the 1940s see Kellogg's Cornflakes: Tell Me a Story and Nestlé's MILO cinema advertisements. Like these Kraft cheese ads, the Nestlé and Kellogg's advertisements emphasise the nutritional and health elements as a selling point for their respective products.