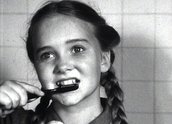 Kolynos Dental Cream Advertisement: Next Please (c.1944)
Synopsis
Mrs Howard and her 12-year–old daughter Nancy sit in a dentist's waiting room. Nancy has a sore tooth. If Nancy brushes her teeth correctly and uses Kolynos Dental Cream, her next check-up report card will read, 'teeth checked – perfect condition'.
Curator's notes
Made a year earlier than the more romantic Kisses, this advertisement contrasts in style and tone, and is aimed at a different audience. It focuses on correct brushing with the right dental cream, targeting a common family situation. Kolynos' scientific basis (it was developed by dental surgeon Dr NS Jenkins in 1908 and endorsed by the American Dental Association) is also emphasised in this advertisement. Kolynos is recommended because it is 'a scientific dental cream'.
This advertisement was produced by the J Walter Thompson advertising agency, which also produced advertisements for Kelloggs, Kraft, Rinso and Persil products during the 1940s. A selection of these advertisements can also be seen on this website.