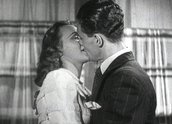 Kolynos Dental Cream Advertisement: Kisses (c.1945)
Synopsis
A cinema advertisement for Kolynos Dental Cream that claims brushing with Kolynos improves your teeth and gives you a kissable smile.
Curator's notes
This romantic advertisement for Kolynos Dental Cream emphasises the pleasant social and cosmetic effects of using Kolynos (having a kissable smile that is dazzling white) rather than the hygienic ones. In contrast to the Kolynos advertisement Next Please, which is set in a dentist's waiting room, Kisses is about using a dental cream with the ability to attract a partner.
Kisses is part of the Roger McKenzie Collection held at the National Film and Sound Archive.