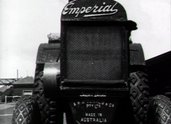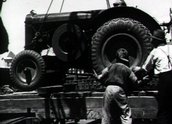 Imperial Tractors: Western Australian Farmers Support an Australian Industry (1937)
Synopsis
This silent black-and-white Imperial Tractors cinema advertisement shows tractor stock at the AH McDonald and Co warehouse and tractors being loaded onto a cargo train for delivery to regional areas.
Curator's notes
This cinema advertisement from 1937 uses a similar style to the industrial documentaries produced in the 1920s. Combining intertitles with documentary-style footage, the cinema advertisement introduces Imperial Tractors and illustrates how the demand from regional farmers is met by transporting the tractors by rail.
Intertitles are then used to detail the tractor's features including its low cost to buy and maintain and the address of the AH McDonald and Co warehouse.