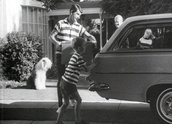 General Motors Holden – Saturday Kind of Car (1967)
Synopsis
This advertisement for the Holden HR station sedan features a typical suburban family weekend, including trips to the store, weekend sport and a picnic by the lake.
Curator's notes
From the 1950s, GMH advertising positioned the Holden as a car to suit a suburban family's every need (see General Motors Holden – To Suit All Family Needs, c1956 and General Motors Holden – Australia's Ideal Family Car, c1957) and this continued in the 1960s. In this advertisement, the car is used on the weekend by the wife to pick up her groceries and the husband to drop the kids at sport and visit the hardware store. Mainstream gender roles of the time are clearly evident – the wife takes her daughter with her, while the husband is responsible for the three sons.
Moving away from the explanatory-style advertisements of the 1950s, the 1960s Holden ads used catchy jingles and upbeat music, promoting the car as an object of desire. The Holden in this ad is still presented as functional – its large interior and spacious seating is perfect for the family unit – but it is also regarded as an accessory (neighbours wave as the family drive by in their Holden). The car becomes even more of an accessory as the decade rolls on until it is synonymous with lifestyle (see General Motors Holden – The New Generation Holden, 1968).