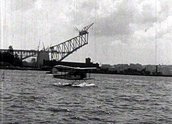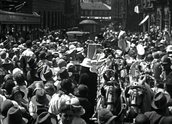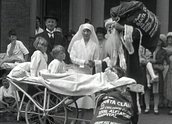 Here Comes Santa (1929)
Synopsis
This silent, black-and-white cinema advertisement from 1929 for Anthony Hordern & Sons shows Santa arriving at Farm Cove, Sydney then transported by a horse-drawn carriage through the Botanic Gardens and along Elizabeth and George Streets to a crowd outside the Anthony Horderns Department Store. Santa then visits the Royal Alexandra Hospital where he delivers presents from the Anthony Horderns department store to sick children.
Curator's notes
This cinema advertisement is presented in a newsreel format, beginning with a title card, like the newsreels of the day, which introduces the story much like the headline of a newspaper article. Intertitles are then used throughout the advertisement to introduce a new scene or location.
Anthony Hordern & Sons was a large business based on a department store in Sydney. Although the department store is now gone, its legacy remains today with such buildings as the Hordern Pavilion, Sydney.