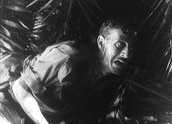 Give Us This Day (1943)
Synopsis
This political advertisement directed by Ken G Hall for Cinesound Productions and the Department of Information compares the difficulties of food rationing suffered by Australian troops stationed in New Guinea during the Second World War with those of the civilian population during the same time period.
Curator's notes
Couched in patriotism and a strong Christian moral code, Give Us This Day takes its title from a phrase in the Lord's Prayer 'give us this day our daily bread'. This line bookends the advertisement which begins in a church and ends at the dinner table. In between, discrete scenarios set in Australia, New Guinea and England illustrate people's complex relationship to food at a time when the world was in the midst of the First World War. Give Us This Day links the experiences of Australian troops, everyday civilians and those suffering overseas in 'the Motherland' by juxtaposing a series of vignettes which build an emotional and moral argument for the necessity of food rationing. The advertisement is interspersed with a 'voice-of-God' narration and uses an emotive musical score.
Throughout the advertisement, food is associated with survival (the starving classes, the troops – or 'real men' – fighting on the frontline), enjoyment (the upper classes eating in a restaurant), fortitude (the English who have lived with rationing for four years yet are grateful for what they have) and expectations that luxurious food is a right for the upper classes (punters drinking at a bar, and a man in a barber shop). Food rationing was introduced by the then Prime Minister John Curtin in 1942 (a year before this advertisement would have screened in cinemas) to manage shortages, help divert resources towards the war effort and to regulate civilian consumption. Australians were still coming out of the economic depression of the 1930s and the war had moved closer to their shores.
It is also interesting to note Australia's close relationship with the United Kingdom and the country's commitment to provide material support and empathy for a population who had suffered at the hands of the Germans during the Blitz of 1941. Throughout Give Us This Day the good fortune of Australian civilians is compared with that of their British counterparts. who had been living on austere rations for four years, subtly underscoring Australia – UK relations at the time.
By focusing on personal stories plucked from what were probably common scenarios, director Ken G Hall clearly brings his skill as a feature-film director to this advertisement. Hall was one of the pioneers of early Australian cinema and worked for Cinesound Productions in the 1930s and 1940s. During this time, Hall and Cinesound produced the Academy Award-winning documentary Kokoda Front Line! (1942) filmed by war cameraman Damien Parer.
Give Us This Day would have screened in cinemas in a program that would typically have consisted of a newsreel and a feature.