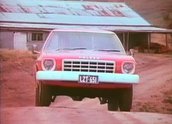 General Motors Holden – Football, Meat Pies, Kangaroos and Holden Cars (c.1976)
Synopsis
This colour television advertisement for Holden includes one of the most popular jingles of 1970s and '80s Australian advertising. Voiced by radio and television personality Ken Sparkes, the ad features a montage of Australian icons including the national flag, native fauna, beaches, and sports such as cricket and football.
Curator's notes
By the mid to late 1970s, the Holden brand was firmly entrenched in the Australian psyche. But rising costs, declining profits and competition from overseas car manufacturers had reduced Holden's market share since the 1950s. It is in this context that Holden introduced one of its most memorable advertising campaigns. Using the same melody, it is adapted from the mid-1970s advertisements of its parent company, General Motors, 'Baseball, hot dogs, apple pie and Chevrolet'. The American and Australian jingles both appeal to patriotism by referencing popular cultural icons.
This ad associates Holden with a laid-back working class Australia in love with sport and outdoor activities and it ran on high rotation during football season. Holden had cultivated an association with football since the 1960s (see General Motors Holden – John Fisher, Another Holden Driver, 1962). Featured in the ad are several 1976-77 HX models including the Kingswood, ute, Statesman and LX Torana. The jingle was used until the early 1980s, each time re-edited to target different audiences and showcase the latest Holden models.