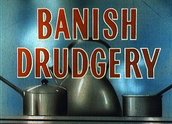 Electric Stove Cinema Advertisement: Banish Drudgery (c.1940)
Synopsis
This cinema advertisement from the 1940s illustrates the benefits of cooking with electricity and the new electric kooka range.
Curator's notes
This advertisement appears to have been made by the Sydney County Council or SCC (which later became the NSW Electricity Commission) to sell the benefits of electric cooking (and by extension, increased electricity use) to the general public. At the time of the ad, many households would still have been cooking with fuel or gas stoves, although other smaller electric appliances would have been in wider use. Around the time this advertisement screened, a window display which featured an electric stove appeared in the front of the SCC building in George Street tempting housewives to 'cook by electricity'. In the 1970s, the SCC also published a series of electric cooking recipes based on television segments it produced called Switched on Living .
The beautiful model and actress Pat Firman is cast as 'Mrs Sydney'. Firman appeared in a number of print advertisements throughout the 1940s, did modelling with the June Dally-Watkins agency, worked for the theatrical entrepreneurs JC Williamson, and in the 1960s was one of the regulars in the television series Beauty and the Beast .