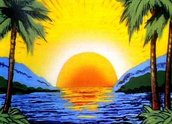 Coruba Jamaican Rum (1979)
Synopsis
This animated cinema commercial for Coruba Jamaican Rum celebrates the lifestyle associated with the spirit's origins.
Curator's notes
Like all good commercials, Jamaican Rum reflects the zeitgeist in which it was made. The 1970s was a decade of risk taking, inspired funding, and a healthy economy resulting in great achievements in Australian cinema. The spirit of adventure, abandon and celebration, reggae, sunbathing and surfing were the happy lot of '70s youth and are showcased in this ad.
The ad was animated, traced and painted entirely by hand, using the traditional cell animation process, and filmed on a rostrum camera in 35mm. It originates from Australia's most enduring animation studio, Film Graphics. In operation for over 40 years, Film Graphics has grown from a small commercial animation studio to a global production company of commercials, film, television and animation. Their originality and artistry, as well as their exceptionally high production values, have won them every national and international award possible in the commercial genre.
Director-designer-animator Phil Meatchem has been animating for 30 years. His considerable talent and experience are currently benefiting younger animators working in CGI. He advises them to embrace the fundamentals of good animation such as 'squash and bounce', convincing human movement and rhythm and, not least, the human touch.
Jamaican Rum ran for one year on television and in cinemas. In the cinema version the dancing woman is naked and the ad received a restricted 'R' rating; in the television version she wears a bikini and the ad was rated 'M' for mature audiences.