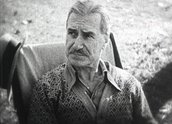 Conquest (1936)
Synopsis
Dedicated to the 'builders of the nation', this cinema advertisement for the Rural Bank of New South Wales shows that the bank appreciates the difficulties that the 'man on the land' has to overcome to build his livelihood.
Curator's notes
Over ten minutes long, Conquest pitches the story of the 'man on the land' as one of industry, courage, determination and progress. In the context of a friendly meeting between bank client Jim Stanley and representatives from the Rural Bank of New South Wales, it builds a persuasive argument that the bank not only understands the struggles of settlers working on the land, but will support and stick by them through good times and bad. The bank was established in the 1920s with the specific purpose of affording 'greater financial assistance to primary producers' (State Records of New South Wales), and this advertisement certainly promotes rural development, primary industry and settlement in remote areas of the country.
The persuasiveness comes largely through the style of voice-over narration and the 'epic tale' of men that struggle, battle, conquer and never say die. There is also a subtle undercurrent which runs throughout the advertisement which reminds the audience that support for those working on the land leads to increased productivity which in turn leads to increased yield (and therefore builds the nation).
In 1981 the Rural Bank of New South Wales became the State Bank of New South Wales.