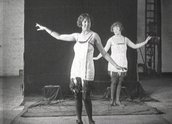 Berlei Corsets: Beautiful Lines of Woman Triumphant (c.1920)
Synopsis
This silent black-and-white cinema advertisement shows women modelling Berlei ladies foundation garments.
Curator's notes
Berlei's cinema, and later television, advertisements for its products over the course of the last century provide a record of the development of women's undergarments and corsetry. Victorian Fred Burley founded Unique Corsets Limited with his brother Arthur in 1912 and went on to form Berlei Limited in 1919. Through the years, Berlei expanded to the UK and New Zealand and today remains a successful and widely recognised brand for lingerie and underwear throughout Australia.
The print of this advertisement for Berlei foundation garments was deposited with the National Film and Sound Archive from Berlei's own archives.
The 1984 feature film, Undercover, set in 1920s Sydney, charted the rise of the House of Berlei and its founder Fred Burley.