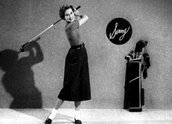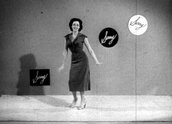 Berlei Underwear Cinema Advertisement: Sarong (1950)
Synopsis
This compilation of three 30-second cinema advertisements from 1950 features Berlei's 'Sarong' girdle, the girdle that 'walks and won't ride up'.
Curator's notes
Featuring three versions of the same advertisement, the Berlei 'Sarong' girdle is aimed at active women who want comfort and freedom to move at the same time. In all three advertisements (two of which are curated here), the female voice-over is the same, but the women differ in the activity which the 'Sarong' allows them to do. In the first a woman walks a poodle; in the second a woman shows her golf swing; and in the third a woman dances freely. The changing activity subtly shifts the emphasis in the advertisement and addresses slightly different types of women. The common link, however, is that 'every move you make', the Berlei 'Sarong' girdle makes it with you.
Australian company Berlei has been a well-known name in corsetry and lingerie since the 1920s, and was founded by Fred Burley.