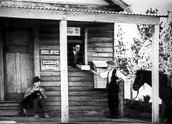 Australia Post – Changing Times (1975)
Synopsis
This is an Australia Post black-and-white television advertisement informing the public of the impending changes to the then Postmaster-General's Department.
Curator's notes
This television commercial primed the public on the nature of the separation of the PMG into two independent organisations – Australia Post and Telecom Australia – presenting it as integral to Australia's communications 'keeping pace with the changing times'.
Prior to 1975, the then Postmaster-General's Department (PMG) had been responsible for all federal matters relating to postal and telecommunications services. Technological developments were significantly changing the size and nature of these services, and by 1972 control of the Australian Broadcasting Commission (ABC) had passed to the Department of the Media. On 22 February 1973 the Australian Post Office Commission of Inquiry was established. Chaired by Sir James Vernon, it was to report on possible changes to the organisation, administration and operations of post and telecommunications, including overseas telecommunications services – which since 1946 had been handled by the Overseas Telecommunications Commission (OTC).
On 23 July 1974 the Commission presented its report (known as the Vernon Report), recommending that the postal service be separated from the telecommunications service and that the two be established as independent Statutory Corporations. On 1 July 1975 the Postmaster General's Department split, forming the Australian Postal Commission (trading as Australia Post) and the Australian Telecommunications Commission (Telecom Australia – now Telstra). OTC retained its responsibility for international telecommunications. The new statutory body of Australia Post operated independently of the Head of what was now called the Postal and Telecommunications Department and reported directly to the Minister. However it was now required to operate without direct budget funding and to be financially self-sufficient.