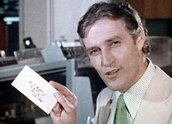 Australia Post – Standard Letters (1974)
Synopsis
This is an Australia Post television advertisement informing the public of the new system of paying postage on domestic mail items, according to their standard or non-standard size.
Curator's notes
In July 1974 the Australian Post Office Commission of Inquiry recommended that the postal and telecommunications services, both run at the time by the Postmaster-General's Department (PMG), be separated into two independent Statutory Corporations. The two commissions formed the following year (the Australian Postal Commission and the Australian Telecommunications Commission), retaining the PMG's legislated monopolies on a range of telecommunications and postal services. Among these was the monopoly on the carriage of letters weighing 500 grams or less. (In 1994 the weight was reduced to 250 grams.)
Prior to the structural changes, the PMG had already taken steps to streamline its handling and delivery of standard letters. In 1967 four digit postcodes had been allocated to every mail delivery area in Australia, and in 1969 Post Office-preferred size specification envelopes were introduced. These initiatives were timed to follow the opening in 1965 of the giant Redfern Mail Exchange in Sydney, with its automated sorting machinery. Under the new two statutory corporations arrangement, the Australian Postal Commission (trading as Australia Post) was to be financially self-sufficient. At the time that this advertisement – which sets out a new system of postage rates for standard letters – was made, the financial imperative for further operating efficiencies was clear.