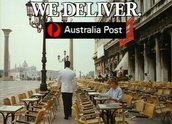 Australia Post – Letter Writing Venice (1986)
Synopsis
This is an Australia Post television advertisement promoting international postage.
Curator's notes
In the 1980s the then Labor federal government introduced a series of neo-liberal reforms to the economy and the nation's administration. Among these, publicly owned business enterprises were sold while government departments and authorities were reformed and their services rationalised. By the time this commercial was made, the writing was on the wall for the nation's postal service.
In 1988-1989 the Australian Postal Commission was converted to the Australian Postal Corporation – referred to as Australia Post. Under the Australian Postal Corporation Act 1989 (the APC Act), Australia Post began operation on a corporate model with the Australian Government as its sole shareholder. Required to perform its functions in a commercial manner, it had to meet all of its own costs, pay all corporate taxes and pay a dividend to its shareholder. Under Section 29 of the APC Act Australia Post retained the legislated letter monopoly of its predecessor. Referred to as the 'reserved service' the section allows for the exclusive right to carry letters of 250 grams or less in weight within Australia and from overseas to addresses within Australia.
So this 1986 commercial was not about competing for market share with any other letter carrier. Rather it was about retaining market share in a world where communication technology was evolving and the relative cost of international phone calls was rapidly decreasing.