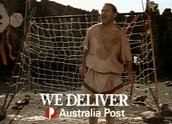 Australia Post – Intelpost (1987)
Synopsis
This is an Australia Post television advertisement promoting Intelpost.
Curator's notes
Intelpost, or International Electronic Post, was a high-speed facsimile transmission service, in which a document at an originating post office was scanned in black and white and transmitted in digital code via satellite to a receiver in a post office overseas. The digital signal was converted back into the original form, placed in an Intelpost envelope, and hand delivered to its destination.
Intelpost operated between countries like the United Kingdom, the United States of America and Canada as early as 1980, but it wasn't until February 1984 that Australia Post began its electronic mail services with the launch of Intelpost. Promoted as 'the fastest mail on earth', Intelpost guaranteed document delivery within two hours, using 'the latest facsimile equipment'. In terms of revenue, Intelpost was not a great success, with business clients reluctant to abandon well-established and well-priced postal services like international priority paid. It was not long before rapid technological advancements and the deregulation of telecommunications services in Australia rendered Intelpost unnecessary.