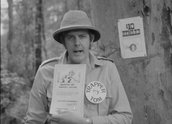 Argentine Ants Advertisement (1968)
Synopsis
A black-and-white television advertisement in which Trapper Tom (Barry Crocker) encourages children to hunt Argentine ants in their local neighbourhood for a ten dollar reward.
Curator's notes
Argentine ants became a domestic and agricultural pest when they were first discovered in Victoria in 1939. The ants reached New South Wales by the 1950s, prompting the creation of eradication campaigns.
The idea of licensing children to hunt Argentine ants was probably conceived by a Commonwealth department, although its exact origins are unclear. The closing remarks of Trapper Tom imply that it was one in a series of advertisements made for the same campaign (see clip one).
Trapper Tom is played by Barry Crocker, star of The Barry Crocker Show (1966–67) and a Gold Logie winner for Most Popular Television Personality in 1970. Known principally as a singer and entertainer, Crocker's most famous role was as the star of The Adventures of Barry McKenzie (1972). He is still performing and appeared in a 2010 episode of the ABC drama series Rake.
Thanks in no small part to Crocker's presence, the advertisement stands in contrast to the more serious and straightforward public awareness films about agricultural pests made by the CSIRO Film Unit, including The Argentine Ant (1956).