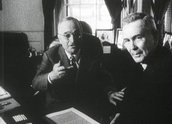 ALP Cinema Advertisement: In the Wake of the Storm (1946)
Synopsis
This is an ALP cinema advertisement for the 1946 federal election. It encourages the Australian electorate to stay with the Labor Party, which has successfully led the country through the last four years of the Second World War and a year of postwar social and economic rebuilding.
Curator's notes
This film is one of a collection of archival election campaign films held at the National Film and Sound Archive on behalf of the Australian Labor Party.
Ben Chifley had become prime minister on 13 July 1945 after the death of John Curtin. One month later VP (Victory in the Pacific) Day was declared. Chifley, a proponent of strong centralist management of the economy, led the country into a postwar period of stability and growth. In the following federal election, held on 28 September 1946, the Labor Party faced the newly formed Liberal Party of Australia, headed by Robert Menzies. Wartime restrictions and obligatory restraint were quickly becoming a thing of the past, and Chifley seemed a less invincible opponent than his predecessor. Menzies and the regrouped opposition had high hopes going into the 1946 election. Nevertheless the ALP recorded a decisive victory with only a slightly reduced majority in the House of Representatives (43 seats to Menzies's new Liberal Party's 15 seats and the Country Party's 11 seats) and a crushing majority in the Senate (16 seats to the Liberal and Country Party alliance's 3 seats).
The Liberal Party campaign for the same election is exemplified by Liberal Party Cinema Advertisement: The Golden Age (1946).