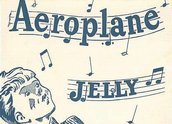 Aeroplane Jelly Song (1938)
Synopsis
A radio jingle recorded in the late 1930s promoting an Australian brand of jelly crystals. This is the most famous and best-loved version, sung by seven-year-old Joy King with the Radio 2SM Orchestra, conducted by John Dunne.
Curator's notes
The 'Aeroplane Jelly Song' was composed in 1930 by grocer Albert Francis Lenertz, better known locally as 'Frank Leonard of Marrickville'. Lenertz was a co-partner with Adolphus 'Bert' Appleroth in the firm Aeroplane Jelly. The jingle was first recorded by Amy Rochelle, a music hall entertainer who did child imitations, but the best known recording is this 1938 version sung by seven-year-old Joy King (later Joy Wigglesworth). She was chosen after a state-wide competition in New South Wales (the only state marketing the jelly crystals at this time). Her version was broadcast for many years.
John Dunne conducted the 2SM orchestra for the recording of the jingle, according to an NFSA oral history with Bessie Dunne, John's widow. John Dunne performed a number of roles at 2SM: as well as presenting various programs, he was the studio manager and instrumental in bringing in program ideas from America.
This jingle was reportedly played 100 times a day on Sydney radio in the 1940s. Such a saturation radio advertising campaign may have been the first of its kind in Australia. This marketing innovation was the work of Aeroplane Jelly co-owner Bert Appleroth, who also demonstrated his marketing zeal in 1927 by choosing a company name to match the topical interest in aviation.
The company kept up with advances in media, and Joy King's voice was used in animated cinema ads featuring 'Bertie the Aeroplane' (see Aeroplane Fruit Jellies Advertisement: Bertie the Aeroplane, 1942), followed by television ads (see Aeroplane Jelly Advertisement: Spaceship, 1959) and now the internet, with the jingle able to be downloaded from the Aeroplane Jelly website. The downloads include versions performed in not-so-convincing French and Spanish accents as well as beatnik and rock'n'roll versions.