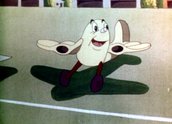 Aeroplane Pure Fruit Jellies Advertisement: Bertie the Jet (1954)
Synopsis
This animated cinema advertisement for Aeroplane Pure Fruit Jellies shows Bertie the Jet taking part in a popularity air race around Australia. The secret to his energy and stamina is Aeroplane Jelly.
Curator's notes
Aeroplane Jelly had been around for over thirty years at the time this advertisement was made. As in Bertie the Aeroplane, made in 1942, this advertisement runs for over two minutes. This provides scope for the audience to identify with Bertie and his adventures. The colourful animation, the anthropomorphising of Bertie, and the jingle 'I love Aeroplane Jelly' aims to both entertain children and appeal to housewives wanting to make a range of colourful desserts.
Bert Appleroth, the founder of the Aeroplane Jelly Company, was a big aviation fan. In the late 1920s aeroplanes were considered very new and high-tech and Bert decided to call his product Aeroplane Jelly. One of the lyrics in the Aeroplane Jelly jingle says 'the quality's high as the name would imply'. The jingle was recorded in 1938, and sung by seven-year-old Joy King, who had won a talent quest to record the official version of the song. This recording is still used today (see Aeroplane Jelly Song, 1938).
The film negatives were deposited with the National Film and Sound Archive by Eric Porter Productions, the company that produced this advertisement. Eric Porter Studios was run by animator and director Eric Porter who had drawn little Bertie the Aeroplane in the 1942 cinema advertisement Bertie the Aeroplane. In 1972, Porter produced and directed Australia's first animated feature film, Marco Polo Junior Versus the Red Dragon.