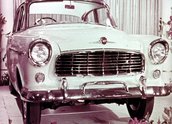 Holden Car Cinema Advertisement: A New Star, the New Holden FE (1956)
Synopsis
This colour cinema advertisement by Litchfield Film Productions launches the new model Holden sedan, the 1956 FE.
Curator's notes
The 1956 FE Holden was the second issue since the first Holden (the 48–215 or FX) was released in 1948. The previous model, the FJ, was released in 1953 but only exhibited minor changes and was largely the same car as the FX. The FE, on the other hand, brought a completely new look to Holden. Many of the FE's aesthetic modifications reflected the fashions of the 1950s – such as two-toned exterior paintwork and matching interior, cleaner lines in the design and the generous use of chrome.
By the 1950s, Holden had secured a firm hold on the car market in Australia at a time of postwar prosperity, increasing suburbanisation and expanding private car ownership. This advertisement taps in to this broad appeal by supplying an itinerary of the car's features (both aesthetic and functional) as well as emphasising its versatility (suited to city driving and winding roads, easy to park), its affordability and high resale value (a common feature emphasised in Holden advertisements from the mid-1950s to the 1960s).
This cinema advertisement was made in the same year that television came to Australia – a technological development that significantly changed the way that we produce, consume and make meaning out of images. In its explanatory style, direct address, product-based appeal and relatively long running time (two minutes), this advertisement is also an example of the techniques used to market products in 1950s Australia. By the late 1960s, GMH advertisements were more dynamic and fast paced – in response to shorter television slots but also to more sophisticated audiences and a diversification of competitors. Television advertisements for the Torana and the Monaro Holden models, for example, were associated with sex appeal and youth – a long way from the reliability and economy of the FE Holden on display here.
The 35mm film release print was deposited with the National Film and Sound Archive by a private film collector from Melbourne.