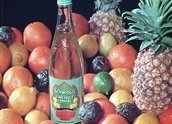 A Matter of Taste (c.1954)
Synopsis
This colour cinema advertisement for Schweppes soft drinks and juice cordials emphasises quality, sophistication and versatility.
Curator's notes
The Schweppes brand has been around since the late 1700s when Johann Jacob Schweppe manufactured the world's first carbonated mineral water in Geneva. Today Schweppes beverages are sold the world over. By the 1950s, Schweppes was a global brand which sold itself on the consistent high quality of its product. The scene inside an Australian Schweppes laboratory illustrates that '163 years of product research and manufacturing experience' guarantee a standard unique to the Schweppes brand.
But for most, the science behind those 'Schweppervescent' bubbles was not what made the drink so appealing. Instead, this ad focuses on Schweppes in the context of entertaining, socialising and recreation. Schweppes's 'true to the fruit' cordial range briefly makes an appearance in this advertisement, almost as an aside. The fruit cordials appeal to kids, as well as to adults mixing drinks. By the 1970s and 1980s, advertisements for Schweppes commonly emphasised its use as a mixer (with its tonic water, mineral water and ginger ale flavours).
The 'Schweppervescence' campaign was first launched in the mid-1940s in the UK. The line about 'Schweppervescence' – the little bubbles that 'last the whole drink through' – is still used in Schweppes ads today.