The McDonagh Sisters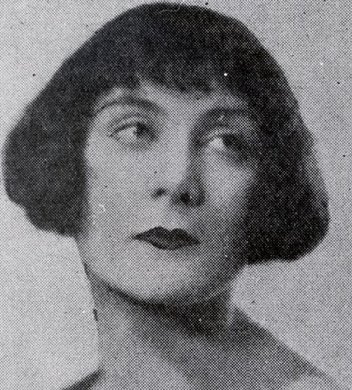 See also
Related people
Related events
Graham Shirley profiles the pioneering filmmakers, The McDonagh sisters – Isabel, Paulette and Phyllis.
During the era of Australian silent cinema (1896-1930), when opportunities for women filmmakers were rare, the McDonagh sisters – Isabel, Paulette (pictured above) and Phyllis – had instant success with their first feature, Those Who Love (1926). For that film and their second, The Far Paradise (1928), they were financially rewarded and publicly acclaimed, praised for their cleverness, courage, 'vim and enthusiasm'. In their capacities as co-producers, leading actor (Isabel), director-writer (Paulette) and art director-publicist (Phyllis), the sisters generated this initial success by making films that were Australian variations of popular Hollywood melodramas. After these two films, the McDonaghs' biggest challenges were to cope with the coming of sound and to tap into sound cinema's rapidly changing audience tastes.
The fact that the McDonagh sisters had been brought up, as Paulette put it, 'in the lap of luxury', helped give them confidence and independence at a time when many women faced marriage as a sole option. But the sisters' achievement becomes even more remarkable when it is realised that the wealth that had given them such confidence was ebbing away by the time they started filmmaking.
Isabella Mercia (1899-1982), Phyllis Glory (1900-1978) and Paulette De Vere (1901-1978) nee McDonagh were the eldest of the seven children of Dr John McDonagh and his wife Anita ('Annie', nee Amora). Dr McDonagh was an honorary surgeon to the JC Williamson theatre circuit. Since their parents ran weekly soirees for Australian and visiting overseas actors, the McDonagh children became immersed in the world of theatre from early childhood. The eldest sisters soon became keen filmgoers with a liking for Hollywood dramas. Paulette in later years recalled how she saw the same films repeatedly, often in a single day, to learn how the best of them derived emotional power from the way they were shot and edited.
Dr McDonagh died in January 1920, leading to the discovery that by the time of his death his savings were meagre. To make ends meet, and assisted by Isabel, Annie McDonagh in 1921 opened and ran a nursing home at Drummoyne House, a colonial mansion in the Sydney suburb of Drummoyne, which the family had bought the previous year. This enterprise was comparatively short-lived, since Annie McDonagh died in March 1924. According to Phyllis McDonagh, their father had willed his eldest three daughters £1000 for the making of a film. In the several years before they made that film, Paulette wrote two scripts, attended Sydney filmmaker PJ Ramster's film school and appeared as an extra in Arthur Shirley's The Mystery of a Hansom Cab (1925). Isabel appeared in Beaumont Smith's feature Joe (1924) and F Stuart Whyte's Painted Daughters (1925).
Isabel, Paulette and Phyllis used Drummoyne House and other settings to make their first feature, Those Who Love (1926). Their budget was small by Australian standards but the sisters cut production costs to a minimum, persuaded friends to play support and extra roles, and convinced property, prop and costume owners to allow buildings, cars, furniture and the latest fashions to appear in the films in return for free publicity. Knowing exactly what coverage she wanted, Paulette divided each day into a series of shots that during post-production cameraman Jack Fletcher had only to join end to end, as distinct from other filmmakers who might shoot extensive alternative coverage, then decide the best editing afterwards.
All three of the McDonagh silent films had plotlines of lovers divided by parental and class differences. The second and third films, The Far Paradise (1928) and The Cheaters (1930), also made one of the parents a criminal whose activities are largely invisible until their daughter falls in love with the son of a law-abiding father. The McDonagh silents drew from themes stretching as far back as melodrama's origins in the 18th and 19th centuries, but in the hands of writer-director Paulette McDonagh and Isabel McDonagh (billed as 'Marie Lorraine') as leading actor, their first two films had a heartfelt emotional truth that made them resonate with late 1920s Australian audiences.
The commercial success of Those Who Love brought the McDonaghs enough income to supply the £2000 budget of The Far Paradise. That second film, however, earned less money, and the budget for their third feature, The Cheaters, came from a family friend, former grazier Neville Macken. Even before the making of The Cheaters, financial difficulties forced the McDonagh family to sell Drummoyne House. To help support the family, Isabel from early 1929 ran a Sydney CBD photographic studio in partnership with Rene Pardon, while Phyllis wrote newspaper and magazine articles, reviews and short stories.
Unable to find a distributor for the silent version of The Cheaters at a time when American sound films were flooding the Australian market, the McDonaghs and Macken converted the film first to a part-talkie with three synchronised sequences (see The Cheaters (silent), 1929), then to a full-talkie (The Cheaters (sound version), 1931). While there is evidence that the part-talkie screened in one Melbourne cinema, there is no evidence that the full sound version was ever released.
Financed again by Neville Macken, the sisters next produced several short documentaries including one about the racehorse Phar Lap, The Mighty Conqueror (1931), and another featuring Don Bradman, How I Play Cricket (1932).
The McDonaghs' business inexperience sometimes showed in painful ways. Paulette later recalled that this inexperience stopped the sisters being able to negotiate better release terms for their first two films, and that they were afraid that they would be out of their depth if they moved to Hollywood. The worst mistake they made was to reject an offer from an initially admiring Frank Thring snr, managing director of Hoyts Theatres. Thring, who had read the script for The Cheaters before its production, volunteered to organise the film's distribution and exhibition. Paulette later claimed that their rejection of Thring's offer – which included the sisters' insistence that he place them on a weekly salary while the film was being made – 'insulted' Thring and radically reduced the release options for The Cheaters.
The McDonaghs' final feature, Two Minutes Silence (1932), was an audacious gamble. Adapted from an anti-war stage play by Sydney journalist Leslie Haylen, it flashed back to the traumatic First World War memories of four people who paused for the then customary two minutes' silence at 11 am on Armistice Day. Critical opinion on the finished film was divided between those who found it too static and gloomy, and those who appreciated its originality, intelligence and the quality of its performances.
Among those who praised Two Minutes Silence were First World War Australian Prime Minister Billy Hughes and the poet Kenneth Slessor, the latter of whom found the film 'powerful and convincing'. Paulette McDonagh called this now lost film the best she ever made. For Paulette the topic of Two Minutes Silence was a deeply personal one from the time she saw Haylen's play and decided she must produce it as a film. She later said that Two Minutes Silence failed financially because it was 'too true for a lot of people'.
Two Minutes Silence was financed by businessman Charles Stewart, whom Isabel McDonagh married in Sydney on 14 September 1932. Isabel and Phyllis now retired from filmmaking, Isabel to raise her three children, and Phyllis to work for The New Zealand Truth. Paulette, in partnership with one of her brothers, John McDonagh, endeavoured to make a feature on pioneering Australian flying doctor John Flynn, but it proved impossible to raise the film's budget. Paulette herself withdrew from filmmaking but as with Isabel and Phyllis, stayed a keen film and theatre-goer for decades afterwards. (In 1959-60 Isabel and her children appeared in plays produced by Hayes Gordon at his Sydney-based Ensemble Theatre.)
Paulette lived for a while with her younger sisters before moving into a Kings Cross (Sydney) apartment in 1940. It was there that this writer, keen to document unknown aspects of Australia's early film history, met her in the early 1970s. Described by Phyllis in 1971 as 'the quiet, authoritative type', Paulette also proved to be a natural, indeed ebullient storyteller who was able to re-create the heyday of the McDonagh sisters' filmmaking with vivid descriptions of production challenges and triumphs, difficult and easy actors and technicians, film trade identities, and the big contrast between her filmmaking and what she saw as the poor-quality Australian films of others. Phyllis, then still working as a Sydney journalist, was on the surface a gentle, self-effacing soul but when dealing with 1970s documentary filmmakers for the use of extracts from McDonagh films, proved a shrewd negotiator. In 1978, mere days before Paulette's death, Phyllis received the Australian Film Institute's Raymond Longford Award for the significant contribution that all three McDonagh sisters had made to Australian filmmaking.
External Links
Citations
Paula Dornan interviewed by Graham Shirley (1988)
NFSA Oral history, Title number: 188932

Neville Macken interviewed by Graham Shirley (1971)
NFSA Oral history, Title number: 227531

Paulette McDonagh interviewed by Graham Shirley and Joan Long (1974)
NFSA Oral history, Title number: 799472

Australian film, 1900-1977: A Guide to Feature Film Production (1998)
Pike, Andrew and Ross Cooper
Melbourne: Oxford University Press ISBN 0195507843
McDonaghs of Australian Cinema (1978)
Shirley, Graham
Publisher: Sydney, Australia : Australian Film Commission
Australian Cinema: The First Eighty Years (1989)
Shirley, Graham and Brian Adams
Sydney: Currency Press ISBN 0868192325
Legends on the Screen: The Narrative Film in Australia 1919-1929 (1981)
Tulloch, John
Publishers: Sydney : Currency Press and Melbourne : The Australian Film Institute ISBN 0868190578
Brilliant Careers: Women in Australian Cinema (1986)
Wright, Andree
Publisher: Sydney : Pan Books ISBN 978-033027065