Chips Rafferty
26 March 1909 – 27 May 1971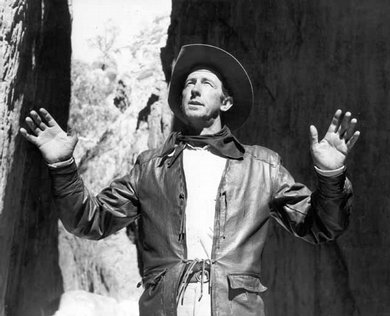 See also
Related people
Related events
Chips Rafferty, born 26 March 1909, was one of the great icons of Australian cinema after the Second World War. This tribute by feature films curator Paul Byrnes celebrates the centenary of his birth.
He was too tall, not particularly good looking and he had virtually no training as an actor, but for more than 20 years Chips Rafferty was Australia's favourite screen star, the one in whom we most saw an ideal of ourselves.
Rafferty was tough, laconic, thin as a dingo and weathered by a hard sun. He gave Australians a sense of a man who could stand tall after the recent war. He was self-reliance on two strong legs, an important part of the reason he became popular. At a time when Australians were loosening the bonds of empire, there was nothing English or American about him; he could not be mistaken for anyone's lackey. He was the right man in the right place at the right time, in that sense. A lot of what Australians prided themselves on being came together in his lanky, resilient frame.
He was 30 before he made his debut in small roles at Cinesound Studios in 1939, but this delay may have helped significantly in the formation of his screen image. He had lived a full life by the time he met Cinesound director Ken G Hall, including ten years as a wandering bushman during the Depression. Rafferty's biographer, John Larkins, estimated that he had 40 jobs in those years, including drover, shearer, miner, 'roo shooter, fisherman, axeman, woodworker, boundary rider, false-teeth packer and 'windmill expert'. He would play a lot of characters like these in the movies he made between 1939 and 1971.
His real name was John William Pilbean Goffage. He was born at Billy Goat Hill, near Broken Hill, the first of five children. His English-born father was a miner and keen horseman, and John learned to ride early. His mother was Violet Joyce, who was native born. The family moved around a lot, going as far as Adelaide, before settling in Parramatta, Sydney, probably in the early 1920s. John became an ardent surfer, but he also developed a strong interest in painting and writing. At 16, at his father's behest, he began an apprenticeship in iron moulding at the Clyde Engineering Works. After his father died, he became the family's provider for a few years, then took to the road and the series of jobs mentioned above.
Artistically inclined
It's clear that whatever else he did, he was also artistically inclined. He was able to sell poems, stories and watercolour pictures to newspapers and magazines. By the late '30s, he was living on a boat in Sydney Harbour, working as a cellarman at a Sydney wine bar and drinking regularly at the Black and White Club on Circular Quay, a favourite haunt of actors and artists.
There are conflicting stories of how he got his first job at Cinesound, but it was as part of a comedy routine involving a bush fire brigade in Dad Rudd, MP (1940). He had no lines but he impressed Hall with his natural comic presence, part of which came from his height. He was 198 cms (6'6") and thin as a rake. He had worked for a time as a comic stooge for a stage magician, Claude Leslie, one of whose tricks was to make him disappear. Hall used the naturally funny young man as visual contrast to the heavy-set Bert Bailey, who was playing Dad Rudd, but this was to be Cinesound's last film. The war shut down production and Goffage went back to cellaring.
When Charles Chauvel took over the Cinesound Studios soon after, he had already decided to cast well-known comedian Pat Hanna as the main comic character in his new film, Forty Thousand Horsemen (1940). He changed his mind when Ron Whelan, who was helping with casting, introduced him to 'Chips' Goffage. Chauvel changed his name to the more larrikin-sounding Rafferty and promoted him as a new star.
Oranges!
The timing was important in Rafferty's success. Pat Hanna had already formed a popular image of the Australian digger in the public mind in his 1930s comedies set in the First World War (see Diggers, 1931). Rafferty's performance as Jim takes off from that point, but loses a lot of Hanna's slow-witted characterisation. Jim is a bit of a bush thinker, as he shows in clip two of Forty Thousand Horsemen (1940). Australian troops were already fighting again in the Middle East when this film came out. Australian audiences were hungry for heroic images of their soldiers and they loved Rafferty's genuineness and humour on screen.
It's fair to say his career was launched by his use of one word. In a scene in an Egyptian market, Grant Taylor as Red admires a pretty girl buying oranges. Chauvel had written a line for Jim about how the pretty girl made him feel homesick but Rafferty suggested a change. When Taylor asked 'Hey, do you see what I see?', Rafferty beamed and said: 'Oranges!'. The line brought the house down.
Rafferty joined the Royal Australian Air Force in 1941, the day after he married Ellen Kathleen Jameson, his second wife. He wanted to be a pilot but ended up as a welfare and amenities officer, entertaining his fellow troops in New Guinea in 1942, and returning to Australia for small acting jobs in propaganda shorts such as Ken Hall's South-west Pacific (1943) and Chauvel's While There is Still Time (1941). In late 1943, he returned to star in one of the few Australian films made and released during the war, Chauvel's The Rats of Tobruk (1944). The role considerably extended Rafferty's version of the heroic digger figure from Forty Thousand Horsemen (1940). He became a more relaxed and energetic presence on screen, moulded by Chauvel's sense of the patriotic qualities that Australians wanted to see.
A new Australian hero
The fully-fledged Chips Rafferty emerged finally in 1946 in Harry Watt's Australian epic, The Overlanders (1946). Although begun as wartime propaganda, the film's release was delayed until 1946. Harry Watt was a distinguished English documentary maker with leftist politics, working for Ealing Studios. He saw the film as a celebration of a hardy and independent Australian spirit that had grown stronger during the war. He poured all of those qualities into the character of Dan McAlpine – a drover who takes a mob of 1,000 cattle on an epic drive from Wyndham to Rockhampton, to save them from capture by the Japanese. Rafferty was now a leading man rather than a sidekick, and this was a dramatic film in which his role was rarely comedic. In effect, McAlpine was a new kind of Australian hero for the times.
The tough men of most pre-war films were farmers or graziers, not bushmen. Their roles were influenced by Hollywood ideas of dash and romance. The younger ones wore riding breeches and made women swoon, but McAlpine was much more realistic and hard-edged. Rafferty knew about droving; Harry Watt knew about directing an actor to get the very best from him. The Overlanders (1946) was a huge hit that made Australians brim with pride.
In a sense, Rafferty can be seen as the second great masculine figure in our movies. The first was Dad Rudd, as personified by Bert Bailey – an elderly but dogged farmer with a white beard who never gave up against the natural calamities of fire, flood and drought. Bailey was essentially a 19th century Australian archetype. Rafferty created the next archetype in our cinema – Dan McAlpine was younger, more virile, less a farmer than an outback wanderer. He was rough and unschooled but cunning, steadfast and resourceful, like the blacks with whom he was friends. The template for Crocodile Dundee (1985) is here in some of the characters that Rafferty played from The Overlanders (1946) on.
The lean years
In the 1950s, as Australian cinema became almost non-existent, Rafferty teamed with director Lee Robinson to make a series of adventure films with exotic locations. In The Phantom Stockman (1953), he's a legendary stockman on the trail of cattle thieves; in King of the Coral Sea (1954) he's a pearling captain defeating people smugglers. Walk into Paradise (1956) has Chips as an Australian patrol officer in the wilds of the Papua New Guinea highlands. Although initially successful, their company eventually went out of business.
Rafferty made few appearances in the late 1950s in Australian movies. Most were offshore productions shot in Australia, like the two popular Smiley films (Smiley, 1956, and Smiley Gets a Gun, 1958), in which he played a policeman, or the earlier Bush Christmas (1947), where he played a rare villain. He was memorable as the shearing contractor in Fred Zinneman's version of The Sundowners (1960), with Robert Mitchum playing a dinkum Aussie, but his major roles in the 1960s were in television and a couple of Hollywood films, including the Lewis Milestone Mutiny on the Bounty (1962), starring Marlon Brando. He was vocal in this period about the need for federal government support of the film industry – he even threatened to stand for parliament to get 'those bloody no-hopers' to do something.
At the end of his career, Rafferty appeared in two important Australian films. He was the rough-hewn Sydney builder whose daughter wants to marry a 'dago' in They're a Weird Mob (1966), and the thirsty policeman in Wake in Fright (1971). This was his last film and one of his best roles – a mixture of outback ignorance and veiled menace.
It's true that Rafferty played himself in most of his films; it's also true that by 1971, the image of the Australian male was changing, moving away from the bushie stereotypes at which he excelled. But few actors captured the public's affection as Chips Rafferty did in the immediate postwar period. He was an instantly likeable presence on screen – genuine, raffish, resourceful, without much polish but honest and usually steadfast. At a time when Australians wanted to see themselves as self-reliant figures in a wider world, Rafferty provided the image of immense native capability. He died in 1971 of heart and lung disease, at the relatively young age of 62. He had fought long and hard to re-establish an Australian film industry after the war, but he died just as it was about to be reborn.
External Links
Citations
Directed by Ken G. Hall: autobiography of an Australian film-maker (1977)
Hall, Ken G
Publisher: Melbourne : Lansdowne Press ISBN 0701806702
Chips: The life and films of Chips Rafferty (1986)
Larkins, Bob
Publisher: Macmillan Australia, Melbourne ISBN 0333415108
Australian film, 1900-1977: A Guide to Feature Film Production (1998)
Pike, Andrew and Ross Cooper
Melbourne: Oxford University Press ISBN 0195507843
Australian Cinema: The First Eighty Years (1989)
Shirley, Graham and Brian Adams
Sydney: Currency Press ISBN 0868192325