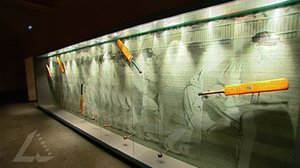 Our homepage features images from the first series of National Treasures, episodes of which are now published in full on ASO with accompanying education notes.
Warren Brown, editorial cartoonist for The Daily Telegraph newspaper in Sydney, explores national treasures from Australia's key cultural institutions.
The surprising list of artefacts includes children's book illustrations, a vinyl suitcase, a boat and sporting equipment, as well as historical documents and artwork.
Brown draws cartoons to illustrate each episode and goes behind-the-scenes at cultural institutions, including the National Film and Sound Archive in Canberra.
Film Australia produced three series of National Treasures, the first of which was broadcast on the ABC in 2004.
More information