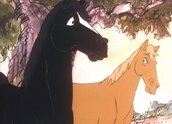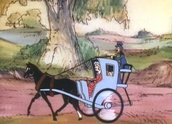 Black Beauty (1978)
Synopsis
In his own words, Black Beauty tells his tragic story, the tale of a working horse's life in Victorian England. It starts happily but, as his feisty stablemate Ginger bitterly predicts, this doesn't last, and the harsh realities of life's lottery for a horse soon sink in. At this time, a horse's welfare was utterly dependent on the temperament of its master and Black Beauty is lucky enough to experience some periods of happiness and good health under the care of kind and fair men such as Squire Gordon, John Manley the stableman, Joe Green the stablehand, and Gerry Barker the cheerful cabbie. These good times, however, are interspersed with shocking mistreatment at the hands of uncaring and cruel men such as the grooms Ruben Smith and Alfred Smirk. While death finally releases a broken Ginger from her miserable existence, the worn out Black Beauty is miraculously saved by his old friend Joe Green. His story ends happily back in the country field where he was born.
Curator's notes
This 1978 animated film is faithfully adapted from the classic children's novel Black Beauty, written by Anna Sewell and first published in 1877. While Black Beauty is in many ways a timeless story, it is also firmly set in this historical period. Poignantly told from the horse's point of view, this moralistic tale is one of goodness and hope, mixed with cruelty, human greed and the heartbreaking consequences of unrestricted exploitation of animals. Sewell's only published novel, it was written just before her death to draw attention to the widespread mistreatment of horses. Horses were involved in every aspect of English life in this era – society, transportation and industry – but, without any regulation, many were frequently and cruelly treated. Sewell also highlights the suffering of poor working people at the hands of the rich, particularly through the story of Gerry Barker.
Black Beauty was one of a number of animated films produced in the 1970s by Hanna-Barbera Australia, headed by Neil Balnaves. In 1988, Balnaves led a management buyout of the company (now Taft Hardie), and changed its name to Southern Star. The Hanna-Barbera studios were sold to the Walt Disney Company. Other Hanna-Barbera Australia animated films of the time include Five Weeks in a Balloon (1977), also directed by Chris Cuddington, written by Kimmer Ringwald and produced by Neil Balnaves; and Daniel Boone (1981), written by Ringwald and directed by Cuddington. Chris Cuddington also worked on an earlier API Australian-produced television series King Arthur and the Square Knights of the Round Table (1967-1972).