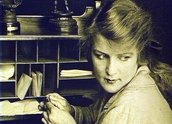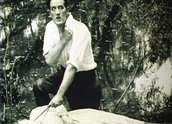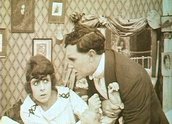 The Woman Suffers (1918)
Synopsis
The Woman Suffers is a complicated silent melodrama of revenge and sexual betrayal, only part of which survives. In the first two reels, which have been lost, a woman caught in an abusive marriage runs away with her infant son from her drunken husband. He falls on a knife and dies and she collapses in the bush. The child wanders off and is found by one family; the mother is rescued by another family and is unaware that her son lives.
The surviving section of the film begins three months later as this woman, played by Connie Martyn, marries Stephen Manton (Charles H Francis), master of Willaroon station near Echuca, on the Murray River. Margaret, the new Mrs Manton, becomes stepmother to his two children, Ralph and Marjory. Meanwhile, the missing child grows up as Philip Stockdale, the adopted child of the owners of Kooringa Station, who already have a daughter Joan. Twelve years later, the children have become young adults. Ralph Manton (Roland Conway) is sent to Melbourne by his father, but the flooded Murray blocks his progress. He takes refuge at Kooringa, and eventually seduces Joan (now played by Evelyn Black). When the floods recede, he leaves and becomes a playboy in Melbourne. He never contacts Joan, who slips into despair. She drowns herself in the river, where her stepbrother Philip (now played by Boyd Irwin) finds her body.
He vows revenge on the man who did this to his sister. When he spies Ralph at the 1917 Melbourne Cup, with his sister Marjory (Lottie Lyell), Philip sees his target. He seduces Marjory, while using a fake name. He then disappears, leaving her pregnant. She becomes mad with shame and grief and (in a missing section) tries to abort her fetus with medicine from the chemist. Ralph discovers her secret and he also vows revenge. In a Melbourne hotel, he confronts his sister's lover but is himself shamed when he discovers that it is Philip Stockdale (this scene is also missing). Mrs Manton also confronts Philip, who tells her the whole story. In the process, she realises that this young man is her lost son. He loses all desire for revenge. They go to Marjory's bedside and Philip marries Marjory.
Curator's notes
The Woman Suffers was an important and controversial film in its time, and remains one of the most significant Australian silent features. Even though only about two-thirds of the film survives, it's obvious that it was an ambitious production for director Raymond Longford and his partner, Lottie Lyell, who plays Marjory. Their next feature would be The Sentimental Bloke (1919), the crowning achievement of their careers, and of all Australian silent films. Thus The Woman Suffers gives us a way of assessing just how advanced their filmmaking technique had become by 1918, a year earlier. They had been working together since 1909 when both were actors in a touring theatre company. Longford directed her in the film of The Fatal Wedding in 1911, a popular stage play in which they had appeared on tour. Their second film, The Romantic Story of Margaret Catchpole, made the same year, established her as a popular star – the first real star of Australian film, according to Marilyn Dooley, who reconstructed The Woman Suffers in the early 1990s at the National Film and Sound Archive.
Lyell became Longford's partner in the making of their films, as well as in their private life (which was complicated since he was already married, and unable to obtain a divorce). Dooley writes: 'Her contribution to the films, made always with Raymond Longford, encompassed the crafts of screenwriting, editing, art direction, producing and directing; in the history of Australia's silent era, Lottie's was a pioneering career in facets of films production usually in prerogative of men'.
The Woman Suffers was their thirteenth film together since 1911. She appeared in all of Longford's films as director up until On Our Selection, made in 1920 (on which she is credited as co-writer). Her appearances after that were less frequent, perhaps in part due to the tuberculosis which took her life in 1925, at the age of 35. The Woman Suffers was filmed in Adelaide when Lyell was 27. Although Australia was at war, the film makes virtually no mention of the fact – except in the dance sequence, a ball for 'the soldiers' at which we see a room decorated with both Australian and US flags. The popularity of films about the war had waned as the casualty figures were published, so it's likely that Longford and Lyell deliberately avoided the subject.
The film is a full-scale melodrama of town and country, with sumptuous settings and high fashions, entwined with a highly moral story: 'The woman suffers … while the man goes free'. Some commentators have seen this concentration on the plight of womanhood as evidence of Lottie Lyell's input. The film has been called 'Australia's first feminist feature film', and there is some justification for that – although the ruination of a woman by a man was hardly new material for melodrama. The film includes a larger range of such outrages, though – from the drunken wife-beater husband in the beginning, through two young men who seduce and abandon, causing the suicide of one woman, and the attempt (at least in the scenario) of an abortion by the other. All of the women in the film are sympathetically depicted; most of the men are not, although again, this was a fairly standard approach in melodramas of the time.
The film opened in March 1918 at the Theatre Royal, Adelaide, to rave reviews. It opened in Sydney in August to good houses, but this came to an abrupt halt in October when the NSW Chief Secretary placed a ban on further screenings, without giving reasons. Longford always believed this was a result of pressure on the New South Wales Government from 'the Combine', the powerful distribution-exhibition partnership of Australasian Films and Union Theatres. He believed the Combine was trying to suppress local productions in favour of imported films from the US – a claim which had some validity. The ban did not affect screenings in other states, and the film played successfully for some time. Its success allowed Longford and Lyell to begin work on their next film, The Sentimental Bloke (1919).